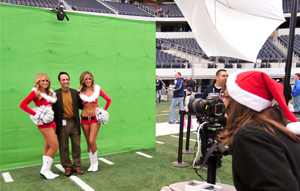 Jowdy Photography provides a wide range of photography that includes the official photography company for the Dallas Cowboys and AT&T Stadium, Yankee Stadium, AT&T Park, Metlife Stadium, University of Alabama, Texas A&M, and others.
Jowdy Photography offers a simple designed partnership with large venues providing photography services with revenue share. Our organization is designed to provide all the needs for any venue anywhere. We have a professional staff with a wide range of talents necessary to meet the requirements of a large venue, produce memorable keepsakes and insure a great experience.
We start by determining the size and scope, then providing guidelines to our approach and consult with the venue for approval for items like station locations, wireless communication and networking.
We have proven success utilizing a wide range of technologies to meet a variety of situations. We are the market leader for onsite printing, with the latest computers, printers and specialty software. Jowdy Photography provides solutions unique to our clients' needs, unlike some companies that use third party systems.
As a full service photography company we have a graphics department that will create unique custom graphics for green screen backgrounds, print borders, picture folders and the custom website. The objective is to provide keepsakes that no one else can create. The custom website will offer a variety of print sizes and accessory items. Our accounting staff is quick to report and resourceful to find ways to increase revenue.
New to the venue, our approach is to get acclimated with the venue and staff and them with us. Once acclimated, we would suggest other opportunities we can fulfill to add value to the experience and increase revenue.